How Vinyl Tiles Allow You To Rehabilitate Your Floors
Using vinyl floor tiles is a great way to refinish any floor. The great durability of the material is particularly suited to kitchens, utility rooms, bathrooms, and any other space where spills are likely. Laying down vinyl tile is an excellent do-it-yourself project, and there's a lot of design in Evolved Luxury Vinyl Flooring. And the steps listed below will guide you through the basics.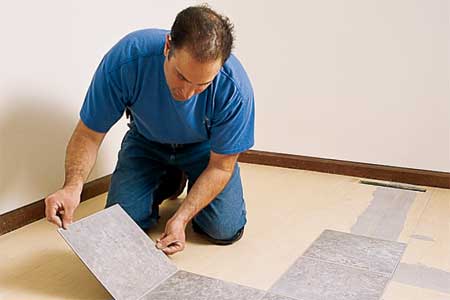 How Vinyl Tiles Have Advanced By Leaps And Bounds
First of all, banish any memories of ugly vinyl classroom floors from your mind. Modern vinyl tiles come in a variety of very attractive finishes, and many brands closely mimic the appearance of natural materials. The durability of vinyl tiles has only improved over time and providing you stay away from the cheapest, thinnest brands your new floor will give you many years of dependable service. (Note that this guide is focused on tiles that come with adhesive backings; you'll need more information to use non-adhesive tiles and mastic.)
Gather The Right Tools
Before you get to work, getting certain tools will make your work much easier. A heat gun and utility knife will be required for cutting tiles. You should also consider renting a tile cutter, a tool similar to a heavy-duty paper cutter. A chalk line is a cheap purchase, and it has a vital role to play. An undercut saw is vital if you intend to get your tiles underneath doorways. Finally, make sure you have suitable nails for your underlayment (subfloor). The right nails will be one-and-a-quarter inches (three pennies) long.
Never Neglect Your Subfloor
Laying down a quarter-inch underlayment is vital to making your new floor level and long-lasting. Stagger the plywood sheets, so joints don't line up. Apply leveling compound to all the joints in a thin layer and let it dry for at least a half hour. You can then use 100 grit sandpaper to smooth the seams out.
Dealing With Doors
Cutting a small wedge out of your doorframes will allow you to lay tile in them, giving a clean finished look. Use one vinyl tile as a height gauge for your undercut saw.
Work From The Center Out
To start putting down your tiles, first measure along each wall and mark the exact center of each on your underlayment. Use your chalk line to snap perpendicular lines between the marks, locating the center of the room. You can start sticking down your tiles here, laying in the corner of the tile at the Centerpoint you've marked. Run a single row of tiles in each direction to each wall, and then fill in the space between. (Don't worry about the final tile that goes on the walls yet.) Repeat this process in each quadrant of the room.
Making The Necessary Cuts
The final course of tiles will most likely need to be cut to fit. This is what your tile cutter is for. You can use your already-laid tiles as a straight edge to mark exactly how much to take out of the last course. Use your heat gun and utility knife to handle any irregular shapes. (e.g., corners or floor registers) A minute or two beneath the heat gun will soften the tiles and make them easy to cut.
Finishing Up
The final step is to install a new shoe molding (a quarter-round shape) between your new tiles and your baseboards. This gives the edges of your new floor a terrific look. You can use a J-roller on the whole floor to ensure full adhesion. If you don't have one, a rolling pin from the kitchen will work in a pinch. Avoid washing the floor or exposing it to liquid for a week so that the adhesive will cure completely.